E71 Recalculation Keys [HASH,SKey,BKey] v.2 over Test Point
Tutorial ini merupakan versi update dari versi sebelumnya.
Versi 1 bisa dibaca di sini :
http://e71.ru/forum/22-96-1
Perubahan mendasar adalah pada metode test point.
Dedicated to siemensxp.com and special thanks to Marusin Alexandr Yurievich (Krasnodar, Russia)
and Sim Sergey (Russia) for friendly guiding.
All steps are in your own risk!!!
Peralatan perang yang diperlukan
Hardware :
1. DCA-110 (v.2) Service Cable
(lihat di sini
http://www.siemensxp.com/viewtopic.php?f=82&t=764
)
2. T5 Torx Driver
3. Tweezer (pinset) 2 pcs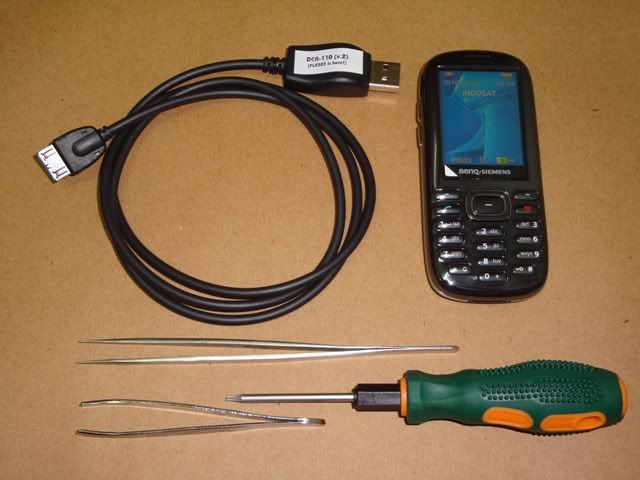 Software :
1. bsReader
2. x65PapuaUtils_v1.1.1b
Langkah-langkah :
1. Hubungkan DCA-110 ke E71 dan ujung USB ke PC.
2. Jalankan bsReader pada E71 untuk mendapatkan ESN dan HASH. Catat pada selembar kertas.
(HASH dari bsReader sebenarnya tidak digunakan lagi pada Test Point ini).
3. Jalankan x65PapuaUtils_v111b, pilih Com Port yang sesuai dan klik pada "Information".
Papua Utils akan menampilkan data pada sisi kanan.
4. Matikan handphone dan lepaskan dari DCA-110.
5. Buka ke-4 screw pada bagian back cover dan lepaskan front cover, keypad dan keyboard contact pad dari PCB.
(Sekarang dapat terlihat posisi Test Point dan juga keyboard contact pad).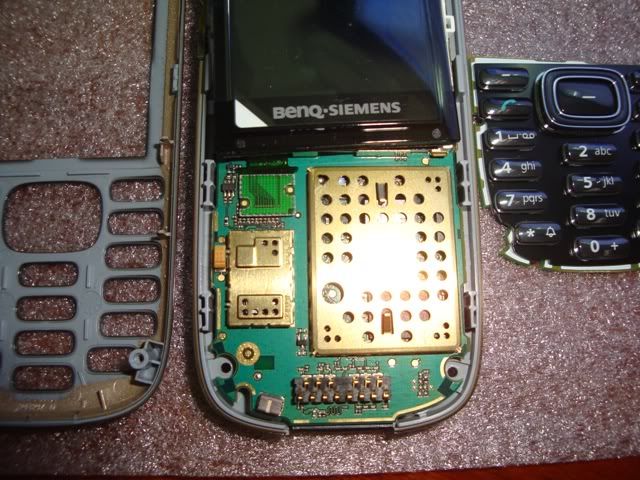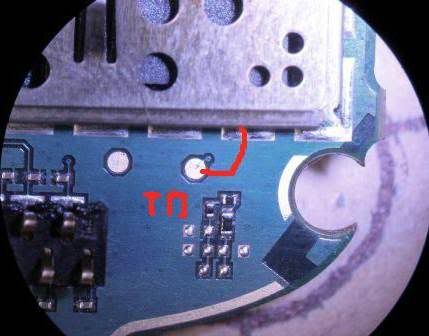 6. Hubungkan kembali E71 ke DCA-110.
7. Buka tab "Codes" dan masukkan ESN yang diperoleh dari bsReader (perhatikan tata cara penulisan ESN pada PapuaUtils).
8. Isi kolom SKEY dengan 12345678.
9. Klik pada "Calculate HASH + BootKEY from ESN + SKEY".
10.Buka tab "Flash" dan berikan tanda centang pada 4 items berikut ini :
- In Bcore
- Pause
- Make Backup
- Chaos BOOT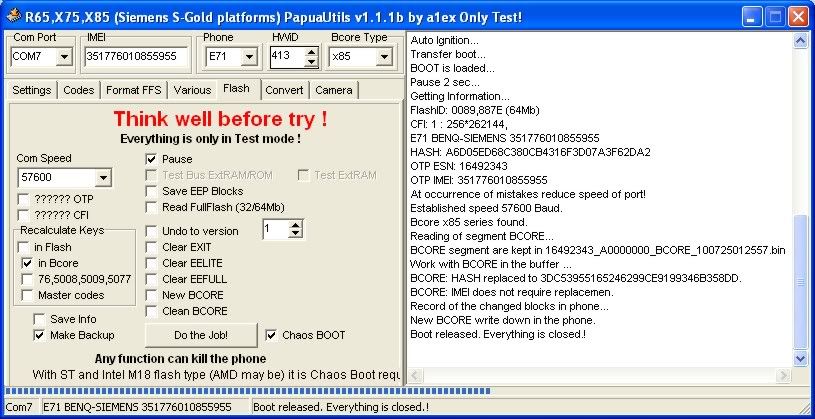 11. Pilih Com Speed : 57600 atau 115000
Setelah langkah ini pastikan
"batere terhubung ke handphone dengan baik"
sampai langkah terakhir!
12. Short circuit titik Test Point dengan pinset 1 dan tahan!
13. Klik "Do the Job!"
14. Segera lakukan inisiasi tombol merah (red button) pada handphone dalam waktu singkat.
Caranya : pegang pinset 2 dan lakukan short circuit pada pin 4 (baris atas) dan pin 2 (baris bawah)
pada keyboard contact pin.
Keyboard contact pin ada 2 baris.
- Baris atas 6 pin, dari kiri ke kanan 1-6
- Baris bawah 8 pin, dari kiri ke kanan 1-8
15. Sesaat setelah short-circuit pada pin 4 dan 2, akan muncul informasi pada sisi kanan PapuaUtils sbb. :
- Auto ignition…
- Transfer boot…
- BOOT is loaded…
- Pause 2 sec…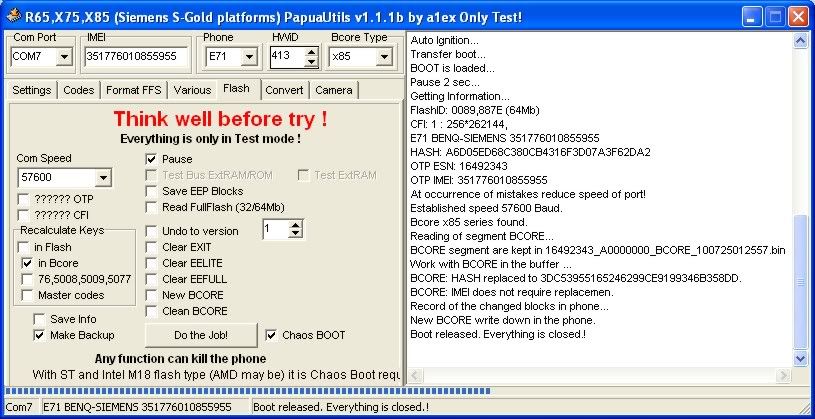 16. Ketika terlihat "BOOT is loaded…Pause 2 sec…" segera lepaskan pinset 1 pada Test Point.
(Lakukan dengan cepat, karena anda tidak ingin handphone tewas!!!…Ingat, bahwa anda dapat menewaskan phone
keyboard bahkan processor!!!).
17. Biarkan proses berjalan hingga selesai…
18. Ketika terlihat
"Boot released. Everything is closed!"
…itu pertanda proses selesai.
19. Lepaskan handphone dari DCA-110.
20. Rangkai kembali keyboard pad, keypad dan front cover pada handphone.
21. Hidupkan handphone dan hubungkan kembali dengan DCA-110.
22. Buka tab "Codes"dan klik pada "Enter SKEY (BKEY) in phone"…tunggu sebentar…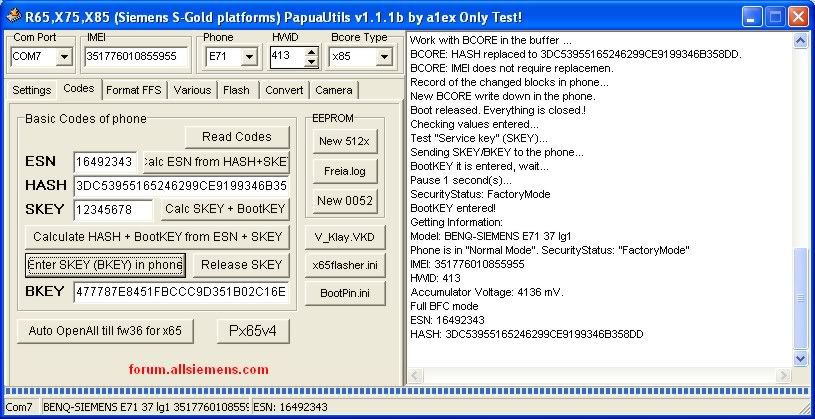 23.
Dan…voila…sekarang E71 anda dalam security status : Factory Mode dan Enjoy it!
24. Selesai.