Tab "Patches" di V_KLay
Direkomendasi oleh maziLham
Diterjemahkan "live" dari
http://www.vi-soft.com.ua
oleh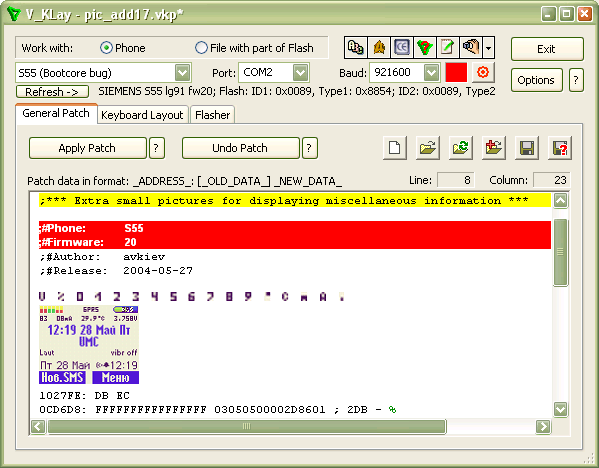 Tab ini untuk keperluan flash atau dipakai secara langsung ke henfon dari sebuah file patch .VKP. Urutan cara menggunakannya sudah dijelaskan dalam file VKP-nya sendiri. Berikut adalah penjelesannya langkah²nya secara umum:
Pemakaian File Patch
• Pilih tab "Patches"
• Load patch dg cara klik "Open..." untuk memilih 1 saja file VKP. Atau plih "Add..." umtuk pilh beberapa file VKP untuk ditambahkan. -- Teks patchnya akan ditambahkan di akhir teks patch yg sedang aktiv.
• Untuk meng-apply patch, klik saja "Apply Patch". -- Semua data patch akan ditulis kedalam data flash yg anda pilih.
• Jika anda bekerja dg file flash: Pilih tab "Flasher", load dahulu sebagian dari data flash ke program, lalu masukkan addressnya dari awal record, ukuran record, kemudian tulis flash ke henfon.
• Klik "Cancel Patch" untuk membatalkan proses patching secepat mungkin.
Cara Memformat Teks Patch
Setiap Teks Patch bisa kita beri bentuk tampilan dengan cara memformatnya, yaitu: Warna Font, Font, Ukuran Font, Warna Latarbelakang/Bekgron, dll. Anda cukup menyorot/blok teks yg ingin diformat, klik-kanan mouse anda maka sebuah Menu Pop-up akan tampil, kemudian pilih item menunya seperti terlihat pada gambar di bawah ini. -- Anda juga dapat menyisipkan sebuah obyek bergambar di sana.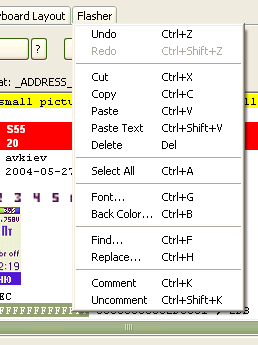 Cara Membuat file .VKP dari File .BIN
• Buatlah dahulu 2 file backup dari file .BIN
• Lalu buka dua-duanya dengan program BIN-editor.
• Beberapa program untuk mencocokkan file .BIN dapat anda download
di sini
atau disini
viewtopic.php?f=30&t=1049
.
Cara Membuat file .VKP Secara Manual
Untuk mengkonversi semua patch yg ada dalam file .BIN menjadi .VKP dapat anda lakukan dengan mudah menggunakan program
HexWorkshop
. -- Buka file .BIN-nya, pilih data yg diperlukan dlm bentuk heksadesimal, lalu kopi ke clipboard. Kemudian dalam "Patches", setelah menulis semua remark yg diperlukan (atau tanpa remark, karena remark sudah ditulis otomatis setelah tanda titik-koma ";"). Perhatikan contoh di bawah ini:
Code: Select all

; Very abrupt patch
; A patch only for super-puper phone with class wearing
; The patch will make the cool 21 inch TV of phone :).
; () very abrupt dude, 2003
56AD45: C9B6067820B8BBCBC1DD
DATA DI ATAS TIDAK BISA DI-"UNDO" SAMASEKALI!
. Karena, pertama kali anda harus menyebutkan data-lama. Data tsb dimasukkan di antara titik-dua ":" dan data-baru. Untuk keperluan ini, buka datanya dengan HexWorkship Original Fullflash, cari di address yg sama, pilih sebanyak mungkin data yg sekiranya cocok dlm patchnya (seperti diperlihatkan dalam statusbar HexWorkshop), kopi ke clipboard, kemudian klik "General Patch", lalu masukkan. Maka akan kita dapati:
Code: Select all

; Very abrupt patch
; A patch only for super-puper phone with class wearing
; The patch will make the cool 21 inch TV of phone.
; () very abrupt dude, 2003

56AD45: 3EC009000D0048BA38DA C9B6067820B8BBCBC1DD

Jadi formatnya "resminya" adalah:
ADDRESS<titik-dua><spasi>DATA-LAMA<spasi>DATA-BARU
Keterangan Format File .VKP
Code: Select all

; Contoh teks patch dari file .VKP untuk program V_KLay 2.6 +
; Di file ini bisa terdapat banyak teks dalam remark.
; Barisan remark harus diawalin dengan titik-koma --> ";"
; Huruf awalan remark dari kompailer C++ misalnya, juga diperbolehkan di sini. Contoh: /* ...*/ atau //
;
; Lalu ada juga yg dinamakan "proofer", dg awalan huruf "+" atau "-" sebagai identifier nya.
; Contoh:
; -0x34a68; remark di sini.
; Proofer dari sebuah address, kalau anda perhatikan, bisa saja seringkali anda temui dalam sebuah teks patch. Contoh:

+0x345; artinya: semua address yg sama dengan heksa 0x345 akan dinaikkan nilainya
045df2: 4567 e123; di sini akan dinaikkan...
+0; ...ke address yg sama bernomor "0",
; ... yaitu untuk mereset operand dari Proofer sebelumnya.


; Jika definisi data patch berformat seperti ini:
; ADDRESS: [DATA_LAMA] DATA_BARU
; maka artinya:
; [ ] adalah data_lama (yaitu data yg sekarang aktiv dalam flash) dan tidak boleh salah tulis.
; Membatalkan patch adalah tidak mungkin.
; Sebelum ADDRESS boleh dikosongkan jika diperlukan.
; Tetapi setelah ADDRESS, harus diberi tanda titik-dua ":", demikian dan seterusnya.
;
; Contoh penulisan 1-byte data patch:

3e0002: ee 55; remark mulai dari sini

; Contoh beberapa byte data patch:
; Byte harus ditulis tanpa ada yg kosong.
; Dan jumlah byte data_lama harus sama dengan jumlah data_baru.
3e0008: 445566 778899

; Contoh beberapa byte yg langsung TANPA data_lama:
3e0004: ffddee33; di sini tanpa ada data lama samasekali.

; Lebih ditailnya anda bisa lihat di sini: http://www.vi-soft.com.ua/siemens/vkp_file_format.txt
Selesai.
Demikianlah TUT ini dibuat, seobyektiv mungkin, semoga bermanfaat bagi para Praktisi Patch SXP.
Mohon maaf jika ada kekurangan, karena memafami tenses Russia & Ukraina tidaklah semudah bahasa Inggris sendiri.
Thankz =(^_^)=
REF: http://www.vi-soft.com.ua/siemens/patcher.htm