di sadur dari :
http://s75.siemens-club.org/rukovodstvo/etc/keys2.html
Taken from here . author arctg. Thread renamed to "Conversion of keys and enter Skey and Bootkey without TP" for clarity.
Note from the author: This method PROVINS me personally and for sgold new sgold all versions.
El71 works for up to 42 versions proshvki, for E71 does not work!
The method is quite logical and not know the first day, but his practicality is very small due to the fact that writes to the bootcore, and is known to be at fault in the recording process in bootcore phone can die forever, since bootcore sensitive to failure (and why on your all FAQah write "FF fill without burning a bootcore" and Papuan priduprezhdaet "Pour bootcore at a low speed "?)... And then, at best, will have to make TP in hudschem - messing around with the iron. It is for this reason that the great minds of Siemens-breaking still recommend doing the calculation butkeya TA, as it may cause less damage.
For the record, you can use bootcore x65flasher (best choice) or V_Klay. PapuaUtil 1.1.1b version of a1ex (with all due respect to the author) is not enough work correctly with COM-port.
Prosedur :
1. Download PapuaUtilits 1.1.1c (
http://s75.siemens-club.org/files/soft/ ... 1c_rus.rar
)
2. Masuk ke Service Mode
3. Masuk ke Tab FORMAT FFS dan Klik BCORE yg akan memformat Bootcore
4. Bootcore udah clean, maka harus di flash new bootcore. masuk ke tab FLASH, klik NEWBCORE dan TEST BUS EXTRAM
Maka akan di dapat KODE ESN
5. KODE ESN tersebut dimasukkan ke TAB CODES, SKEY di isi sembarang angka (8 digit)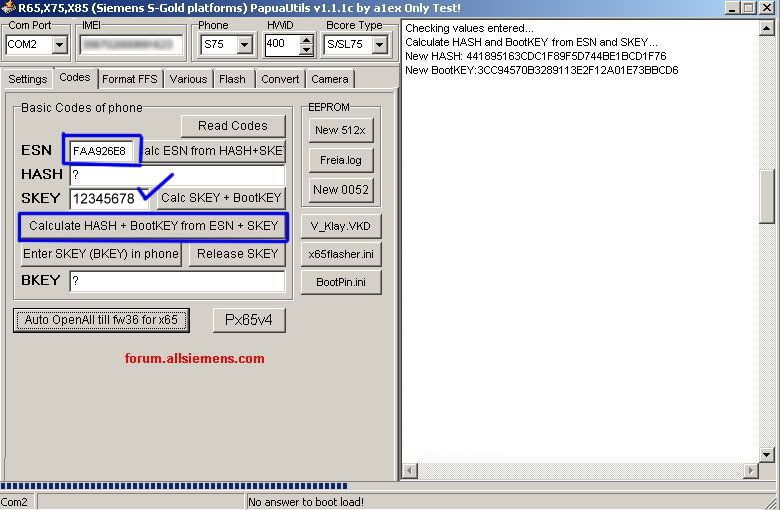 Kmudian klik CALCULATE HASH + BOOTKEY From ESN + SKEY
Kmudian klik SKEY in the PHONE.
Masuk ke TAB VARIOUS klik 5008 PHONECODE
6. Masuk lagi ke tab flash : centang spt pada gambar di bawah .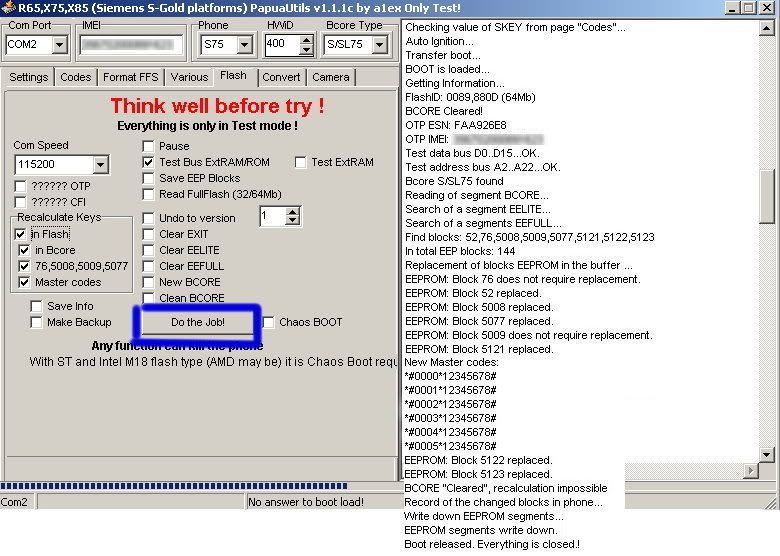 DISCLAIMER : Tidak bertanggung jawab apabila terjadi matot pada HP Anda