Originally Posted by Qunto
Dengan munculnya firmware baru utk S75 v52, gw mencoba utk porting versi Beyond The Limit! menjadi v52 jg.
Meskipun ada bbrp patches yg belum tersedia di versi baru ini dibandingkan v47 (termasuk Entrypoint/shortcut), tp hal lain yg menjadi kelebihan S75 v52 adalah lebih CEPATTT... terutama waktu startup, browsing menu dan saat membuka file multimedia spt JPG, MP3, 3GP, MP4 yg gw rasakan (self opinion lho yaaa.. ).
Seperti biasa, bagi yg mo nyoba dipersilahkan utk reporting any bug found in this compilations....
S75xp 2: Beyond the Limit! @ S75 Variant 300 (FW/FFS/MAP = v52/v52/v47)
Compiled by: Qunto for
http://www.siemensxp.com
- March 2008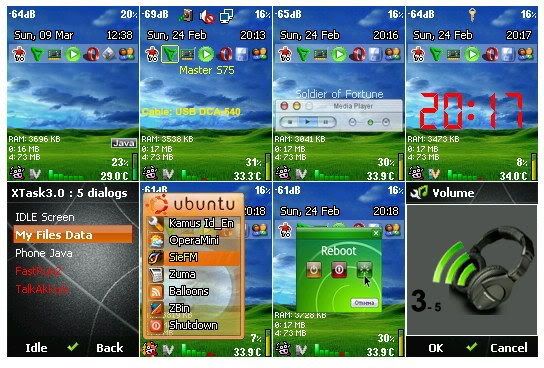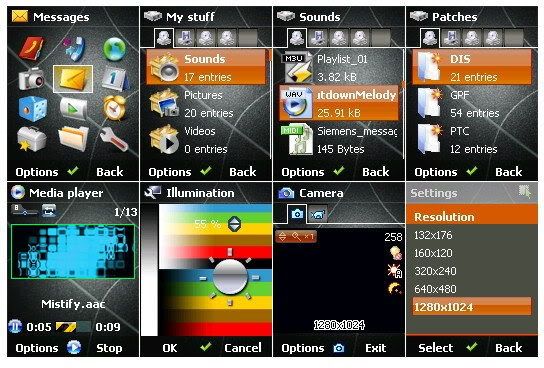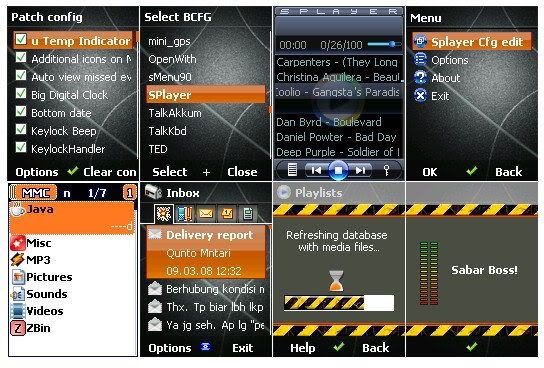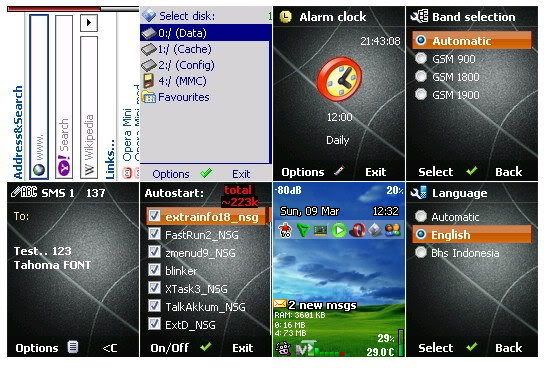 ------------------- Main Patches -----------------
01. Function Library 080216
02. Elf-loader v2.3 ru
03. Master-patch v14
04. Cut heap
05. API 070821
06. Pictures add-on v5
07. Mainscreen-dispatcher v6 - 0000AB11
------------------ Independent Patches -----------------
08. Speedup of mobile till 208 MHz
09. Java Acceleration
10. OpenHiddenEEPROM
11. Rename files with extensions
12. Change password (5461) in disk menu
13. Normal animation in sound recorder
14. DSFS Directly Send Flash SMS v1.1
15. Disable message "Saved to:" after you take a foto
16. Disable message "Please wait" in explorer
17. Toggle HandsFree without question
18. Disable Aircraft Check
19. Change progressbar color
20. Work without SIM-card v2
21. Enable Band Selection
22. Smooth Scrolling Of Long Names
23. Disable ASP (Acoustic Shock Protection) v1.2
24. Keypad Acceleration
25. Smooth keypad light
26. MainScreen positioning v3
27. Increase speed of USSD-messages
28. Don't draw canvas in left bottom corner
29. Run Java from everywhere
30. AutoRedial forever with selected pause
31. Change dialing ringtone "No connection"
32. Change SW Version
33. Disable "Please Wait" in Addressbook
34. Enable RTSP
35. Java Network Timeout Change JNTO
36. PIML (Patch Idle Memory Leak)
37. Photos with maximal quality
38. Send Java and Any Files via Bluetooth
39. Setup illumination by 5%
40. Call list saving when SIM is changed
41. Power on by Alarm clock without confirmation
42. Do not show provider, profile and network search on ms
43. Disable Strict Java Checks Forever
44. Higher MMI Prio
45. Disable UDIAL Logging
46. Disable UNK Logging
47. Don Display central navigation key
48. Change Dictating Records Folder
49. Not block vibra at connection of some accessories
50. Remove Comma in AddressBook
51. Turn phone ON while offline charging
52. Disable USSD sound\vibration
53. Disable ringtone "Net found" (3*beep)
54. Not block vibra at connection of some accessories
55. Show TO and etc on create messages
56. Run Refresher On Exit From Master-Midlet
57. Tahoma Font
58. Downloading by standard browser files of format elf, rar, vkp
59. Disable message "GPRS on/off"
60. Disable message "All ringtones on/off"
61. Little sms report
62. Transparency in Native Menu
63. Change BootScreen to S75xp
64. Disable "Please Wait" in Call List
65. Enable menu items "backlight duration" & "contrast"
66. Disable message "Keypad locked"
67. Disable NetAnimation
68. Refresh fix for Master v14
69. Change Info at About phone *#06#' (Short Info: yg tampil berkaitan dgn file ccq_chk.log dan ccq_vinfo.txt di Drive Config.
Note: Blue marked, update on 09-Mar-2008
------------------ MP-Patches -----------------
01. Vibra at connect v1 - 0000AB08
02. Mega-loudness v3 - 0000AD16
03. Date at the top of mainscreen as "Thu, 20 Apr" - 0000AB01
------------------ DIS-Patches -----------------
01. Additional icons on MS v7 - 100AD06
02. Auto view missed events - 100AD11
03. Big digital clock on MS v2.0 - 0100AB02
04. Keylock/unlock beep - 0100BB01
05. Keylock Handler - 0100AB10
06. MP3 Tag String on MS v3 - 100AD14
07. Accu Temperature As Graphic Indicator v3.1 - 0100CCCD
Change Language Pack:
1. Language only English and Indonesian
2. Please wait -> Sabar Boss!
3. Premium -> 1280x1024
4. High -> 640x480
5. Low -> 160x120
6. Wallpaper -> 132x176 (Menu Setup -> Display -> "Walpaper" jg ikut berubah tulisannya).
================================================================================
ELF on Daemon:
- Blinker: Sbg indikator saat ada missed event, spt SMS/missed call. Contoh ini di setting terjadi effect blinking pd keypad.
- ExtD.elf: Mengasosiasikan extensi file dgn icon/program pembuka yg sesuai.
- ExtraInfo18.elf: Menampilkan bbrp informasi tambahan di mainscreen.
- FastRun2.elf: Menampilkan icon bar di mainscreen utk akses ke funsi tertentu scr cepat ala Quick Launch di Windows.
- TurnOff_d.elf: Menampilkan animasi shutdown ala Windows.
- TalkAkkum.elf: Menyebutkan level battre saat di charging atau pd kondisi battre di bawah 60% pd kelipatan 10 (kecuali 5% dan 0%).
- Xtask3.elf: Task manager utk menjadikan Hp lbh multitasking (mudah berpindah dr 1 task ke yg lain ato mematikan proses yg sedang jalan dgn cepat)
- Zmenud9.elf: Menampilkan pop-up window utk quick akses ke menu pilihan.
Note:
- Utk enable FastRun2: Longpress UP Joystik (utk Disable: Shortpress UP Joystik)
- Utk enable/disable sMenu9: Press Rightsoftkey
* Leftsoftkey & Rightsoftkey: Empty (not assigned to any internal menu)
Cara apply "LangPack_Eng-Ind_Camera.bin":
1. Buka VKlay dan konekkan dgn HP
2. Lalu pada tab flasher, klik Open file... (browse dan pilih file tsb).
2. Lakukan setting manual pada Memory of the phone:
From address: 0x01640000 dan Size: 0x00080000
3. Lalu klik Write Memory.
4. Tunggu sampai selesai..
Download:
- All patches & Supporting files: S75xp_v2_v52-52-47-Beyond_The_Limit_by_Qunto ~ 3.58 MB
(
http://dl.siemensxp.com/XPed/S75xp_v2_v ... _Qunto.zip
)
- Java Applications ( Kamus Ind-Eng, SieFM, OperaMini v2.06 MOD): Java_Applications.zip ~ 1.8 MB (
http://siemensxp.bravehost.com/java/Jav ... ations.zip
)
Link terkait dgn S75 v52:
http://readybb.com/siemensxp/viewtopic.php?t=4568
dan
http://readybb.com/siemensxp/viewtopic.php?t=4663
Have FUN!
Qunto wrote:Gw rasa, klo waktu nelpon ke hp lain pas yg di telpon ngangkat lalu hp kita langsung switch off, ada kemungkinan masalahnya emang dgn patch 'vibrate on connect' tsb.
Tp kasus gw kebalikan, Klo nelpon ke HP lain gak masalah mas, kalo di telpon dr HP lain begitu muncul panggilan di layar, langsung switch Off.

** Setelah UNDO patch BLACK LIST, skrg dah normal lagi!