Thread ini pernah dipost oleh Om Danang di
sini
, tetapi entah mengapa dihapus.
Minta ijin di-repost lagi Om.
POST asli oleh Om Qunto ; Makasih buat PINTURICCHIO buat backupannya
M65@CX70xp: Beyond the Limit!
@ Variant 300 (FW/MAP/FFS)
Compiled by:

Qunto

for http://www.siemensxp.com/ - Jan 2008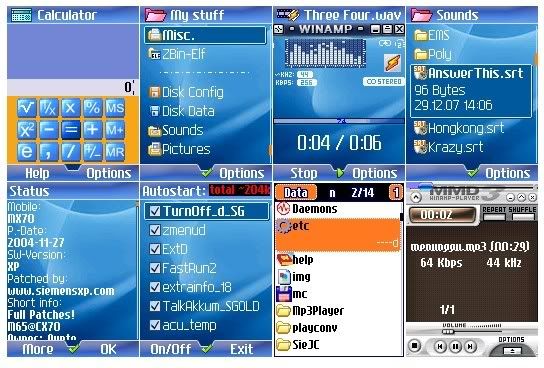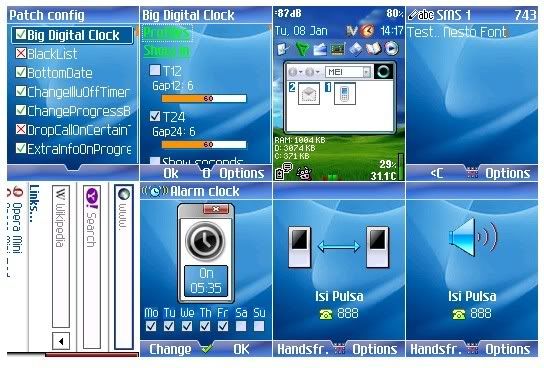 ** Jika ingin konvert dr M65/Cx65 ke Cx70v56:
Panduannya ada di
viewtopic.php?f=17&t=695
** Pada saat pertama kali mau patch, coba apply HANYA "Main Patches" (01 s/d 10) aja. Lalu Hidupkan HP...
- Jika HP tidak mau hidup... Maka UNDO semua patch tadi, dan ini berarti HP kudu di UPGRADE BOOTCORE-nya. Panduannya bisa dibaca di sini
viewtopic.php?f=17&t=418
- Jika HP mau hidup, langsung dilanjutkan dgn patch2 lainnya.
-------------------
Main Patches
-----------------
01. API v14
02. AudioHook v3
03. Function Library v70418
04. Big Function Library v71117
05. WAV ADPCM All Freq.
06. Mainscreen Dispather v3.1
07. Elf Loader v2.3
08. Master Patch v14
09. Cut Heap
10. Pictures add-on v5.1
------------------
Independent Patches
-----------------
11. Open closed EEPROM Block
12. Open Disk Forever
13. Java Acceleration
14. Show File Extension in card Explorer
15. Disable some messages
16. Remove Softkey from mainscreen v2
17. No start sound in Video rec
18. Disable Aircraft Check
19. Change disk names in menu
20. Change delimiter in menu
21. AutoRedial forever with selected pause
22. Video rec 1 min
23. Setup illumination by 5%
24. Smooth scrolling of long names
25. Smooth illumination turn-on
26. Compress jpeg with maximum quality (100% instead of 75%)
27. Keypad Acceleration
28. Enable Developer Menu
29. Call list saving when SIM is changed
30. Enable Band Selection
31. Enable Built-In WV Client (ICQ AIM)
32. Goto mainmenu from anywhere by pressing ###
33. re-enables "Hide ID for next call"
34. Show current time during call v1.1
35. SVS, SMS view shortcut
36. Disable MMI logging
37. Disk selection menu © SiNgle
38. Toggle HandsFree without question
39. Delete Read-Only Files from Card-Explore
40. Disable AUMA And UDIAL Debug
41. RMWKL Read Message when Key Locked
42. DSFS Directly Send Flash SMS V1.1
43. Change some *#06@ info
44. Turn phone ON while offline charging v1.0
45. Mark Files by Left SoftKey in Card-Explorer
46. No SIM Card Phone Operation
47. Add Elf-Folder to the MyStuff
48. Remove the comma between name and surname in address book
49. Disable ringtone "Net found" (3beep)
50. Enable Vibra With Plugged-In Cable
51. Turn on by Alarm clock
52. Disable Retarget Exit
53. Show Hidden Files In Card-Explorer By Default © 1nvisible
54. Change dialing ringtone "No connection" © B-727
55. Disable More Nasty Debug © benj9
56. Change sw version to XX
57. Disable ASP
58. Disable displaying "netsearch" [!]
59. Vibra on/off when keypad locked/unlocked
60. Start elf on a shortcut
61. MyStuff = Disk Menu
------------------
MP-Patches
-----------------
01. Date at the bottom of maincsreen as "We, 11 May"
02. Mainscreen Changer v1.3
03. Music Progress Bar Changer
04. Change Illumination Turn Off Time
05. Keylock Beep
06. Short Vibra at connect
07. Drop Call On Certain Time
08. BlackList v3 beta
09. Missed Events Indicator v2.1 CX70 Ed.
10. Extra Info on ProgressBars
------------------
DIS-Patches
-----------------
01. Big digital clock with color change v2.0
02. Large Advanced Network Indicator v4 (LANI)
Change Language Pack:
02. Font NESTO
ELF on Daemon:
-
ExtD.elf
: Mengasosiasikan extensi file dgn icon/program pembuka yg sesuai.
-
ExtraInfo18.elf
: Menampilkan bbrp informasi tambahan di mainscreen.
-
FastRun2.elf
: Menampilkan icon bar di mainscreen utk akses ke funsi tertentu scr cepat ala Quick Launch di Windows.
-
TurnOff_d_sg.elf
: Menampilkan animasi shutdown ala Windows.
-
TalkAkkum.elf
: Menyebutkan level battre saat di charging atau pd kondisi battre di bawah 70% pd kelipatan 10.
-
Zmenud.elf
: Menampilkan pop-up window utk quick akses ke menu pilihan.
-
Acu_temp.elf
: Utk menampilkan graphic termometer yg mengukur temperatur dingin (biru) - normal (hijau) - panas (merah).
Note:
- Utk enable FastRun2: Longpress Leftsoftkey (utk Disable: Shortpress Leftsoftkey)
- Utk enable/disable sMenu90: LongPress Rightsoftkey
- Set tombol 5 utk shortcut ke 'Remote syncr.' sbg refresher setelah update data di MasterMidlet.
- Aktifkan di
Developer Menu: LOGAL -> Default:Options -> Enable '###'
(agar jika tekan ### maka akan kembali ke MainMenu. (multitasking)).
- Utk MP3Player-nya gak terlalu stabil, but enjoy aja....
- Jika dibanding dgn versi S75xp, gak bs terlalu dipaksain utk bisa sama soalnya processor seri x65 gak terlalu kenceng dan battre sedikit boros lantaran screen yg gede.
Download
:
- All patches & Supporting files:
http://dl.siemensxp.com/XPed/M65@Cx70v5 ... _Qunto.zip
~ 3.1 MB
Have FUN!