selama subuh para linuxer.
sayah baru dapet ilmu baru nih.
lumayan lah bwt di praktekin dan Insya Alloh berguna
biar koneksi cepet :
1. buka terminal (alt+F2 lalu ketik terminal)
2. ketik sudo cp /etc/sysctl.conf /etc/sysctl.conf.cadangan
3. edit file dengan mengetikan sudo vi /etc/sysctl.conf
tambahkan kode ini di baris terakhir.
Code: Select all

increase TCP max buffer size setable using setsockopt()
net.core.rmem_max = 16777216
net.core.wmem_max = 16777216
# increase Linux autotuning TCP buffer limits
# min, default, and max number of bytes to use
# set max to at least 4MB, or higher if you use very high BDP paths
net.ipv4.tcp_rmem = 4096 87380 16777216
net.ipv4.tcp_wmem = 4096 65536 16777216
# don't cache ssthresh from previous connection
net.ipv4.tcp_no_metrics_save = 1
net.ipv4.tcp_moderate_rcvbuf = 1
# recommended to increase this for 1000 BT or higher
net.core.netdev_max_backlog = 2500
# for 10 GigE, use this, uncomment below
# net.core.netdev_max_backlog = 30000
# Turn off timestamps if you're on a gigabit or very busy network
# Having it off is one less thing the IP stack needs to work on
#net.ipv4.tcp_timestamps = 0
# disable tcp selective acknowledgements.
net.ipv4.tcp_sack = 0
#enable window scaling
net.ipv4.tcp_window_scaling = 1
4. simpan file dengan cara pencet Esc lalu :wq lalu enter
5. restart linux nya (klo ga juga gpp)
6. klo misal nya mw dibalikin lagi ke settingan awal buka terminal dan ketik sudo vi /etc/sysctl.conf dan hapus settingan yang di tambahin.
bandingkan bandwith yang anda rasakan.
DOWNLOAD CEPAT MELEBIHI IDM (Windows)
1. download dan install aria2c (terserah versi CLI ato GUI, tapi disarankan CLI) [url]aria2.sourceforge.net[/url]
2. download add on firefox yang judulnya flashgot, caranya
- klik tools >>> addons
- ketik flashgot, klo dah ketemu klik add to firefox.
- klo dah beres install restart firefox nya.
3. klo mw donlot file, klik file donlod nya trus pilih flashgot dan combo BOX nya Aria 2.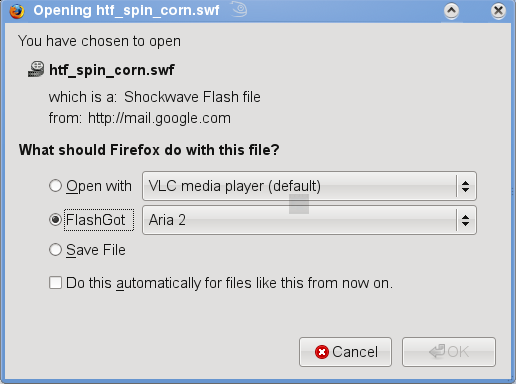 4. klo mw cancel download tekan CTRL+C
5. beres deh lihat dan rasakan kecepatannya.
hasil review saya menggunakan internet unlimited nya fleksi yang terhitung lambat
download file 11Mb cuma 13 menit.