My ME45 -> S45ixp: Strikes Back!
Posted:
May 3rd, 2011, 3:11 am
POST asli oleh Om Qunto, Dikirim: 26th November 2008, 22:32 ; Makasih buat PINTURICCHIO buat backupannya
ME45 -> S45ixp: Strikes Back!
@ S45i Variant 300 (FW = v04)
Compiled by: Qunto for http://www.siemensxp.com - November 2008
Syarat:
Tutorial cara crossgrade ME45/S45 -> S45i v04
Screenshots: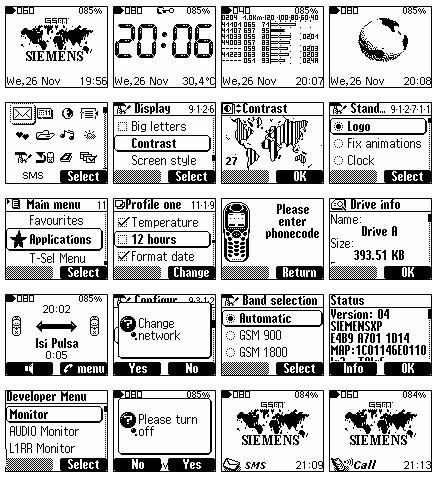 Daftar Patches:
01. Increased FlexMemory (393,51kb)
02. Modify 0 [UpperRight] from "Select Line" to another shortcut
03. flexible memory without a SIM card
04. Disable Aero Check
05. Get AddressBook for phone without SIM card
06. Enabling "Band Selection" Menu
07. delete RaceAce Splash Screen
08. Disable "Do you want to copy all..." message at phone startup
09. don't ask "yes/no" before activate handsfree-mode
10. CLC. Just_Another_Contrast_and_Light_Control
11. DKM. Disable_Keylocked_Message
12. FLS. Flash SMS Directly from the Phone
13. ATM. AutoDial Time Modification
14. CHS. Change Handsfree Softkey
15. AKS. Auto-repeat Key Speed
16. FNC aka Full Name Change
17. NAM. New "Applications" Menu v3
18. PWS. Phone without SIM Card
19. DTD. Disable Tone Dialog (when long-pressing * button)
20. EKS. Eliminate Keylock Screen
21. RSK. Read New SMS When Keylocked v0.9
22. VBHWC. (just another) Vibra, Beep, Highlight When Connected v3.2
23. DSK. Delete softkeys from main screen
24. VWD. Vibra When Discharged
25. HSS. Handfree Softkey Shortcut
26. CSR. Change Softkeys when Ringing
27. ESM. Eliminate SIM full ! Messagebox
28. DFI. dd DD mmm Date Format in Idle screen
29. SSSS (SELECTABLE STANDBY MODE SCREEN STYLE) V0.4
30. ANIMATED OPERATOR LOGO AND DIGITAL CLOCK AS SCREENSAVER V0.8
31. MMP. Modify Main-menu default item Position
32. BSI. Battery Status in % or mAh in Idle v0.15
33. BL. Black List v0.32
34. ANM. Advanced net monitor v.0.2b
35. HBP2. Hourly Beep v2
36. GPT. Just Another GPRS Toggle
37. HBP2. Hourly Beep v2
38. RSB. (yet another) Rounded Softkey Button
39. RBF. RED Button when Flash SMS exists
40. SMS Delete Shortcut v1
41. Relocated Graphical Menu
42. Change FR/EFR/HR to your text
43. TIC. Time in Calls
44. PCM. PowerOff Confermation MessageBox
45. RBD. RED Button in Dictaphone
46. SCT. Show Current Temperature instead of time or date v0.7
47. ESS. Eliminate "Screensaver Active" Screen
Graphics:
- Call ring: tribal

- Shutdown: Windows

- Startup: me45i siemensxp

- LogOn: Net Pictures
- Wait Pictures: Sand time
- Insert Code: ME45 phone
- Confirm: Bubble
- Network: Digitals
- Missed events graphics
Note:
-
Penting!
Pastikan HP di crossgrade jd S45i_v04 dan bs nyala dgn sempurna. Lalu apply patch "Increased FlexMemory (393.41kb)" terlebih dahulu, lalu hidupkan HP dan lakukan format flexmem (Menu -> Setup -> Device -> Explorer), lakukan backup sebelum melakukannya.
Setelah itu bisa apply patch yg lainnya sesuai kebutuhan.
- Utk mengakses graphics menu, tekan right arrow.
=======================================================================================================
Downloads:
-
SME45i_v04_allpatches.rar
~ 138 KB
List
SME45 Patches v04
lainnya.
- Versi firmware yg gw pake
S45i_040306.zip
.
Seperti biasa, bagi yg mo nyoba dipersilahkan utk reporting any bug found in this compilations....
Enjoy & have FUN!